Phoenix Housing Market Update - September 2022
Posted by Scott Graff on Wednesday, September 14, 2022 at 9:00 AM
By Scott Graff / September 14, 2022
Comment
Hello, I'm Scott Graff with TEAM GRAFF at eXp Realty and I'm here to give you Phoenix's Housing Market Update for September 2022.
We have 5 data points we want to give you:
1. Active Listings -
17,978
Number one, our active listing countis sitting right at 18,000 homes. That's up just slightly, not too much month over month from last month. Now, we're still three times as many homes onthe market as we were one year ago today.
2. Average Days on Market -
39 Days
Number two, our average days on market sitting at 39 days, which is up slightly from 32 days month over month. Now, that doesn't seem like a lot, but that's about a 20% increase in days on market.
3. New Inventory -
9,473
Number three, new inventory. We're sitting at right at9473 new listings this last month, which is down just a little bit from last month. So we've simmered just a little with sellers putting their homes on the market.
4. Average Sales Price -
$562,400
Number four, average sale price. The average sales price this last month in Phoenix Metro was $562,400. Now, to compare that to what the median home prices in Phoenix, Arizona, the median homeprice is right at $450,000, which means half the home sold for more than $450,000. Half the home sold for less than $450,000. We track the average sales price onour data and our analysis.
5. Listing Success Rate -
56.2%
Number five, listing success rate. Currently, this last month, we're sitting at 56.2%, which means 56.2% of all sellers who put their homes on the market actually have success actually selling those homes.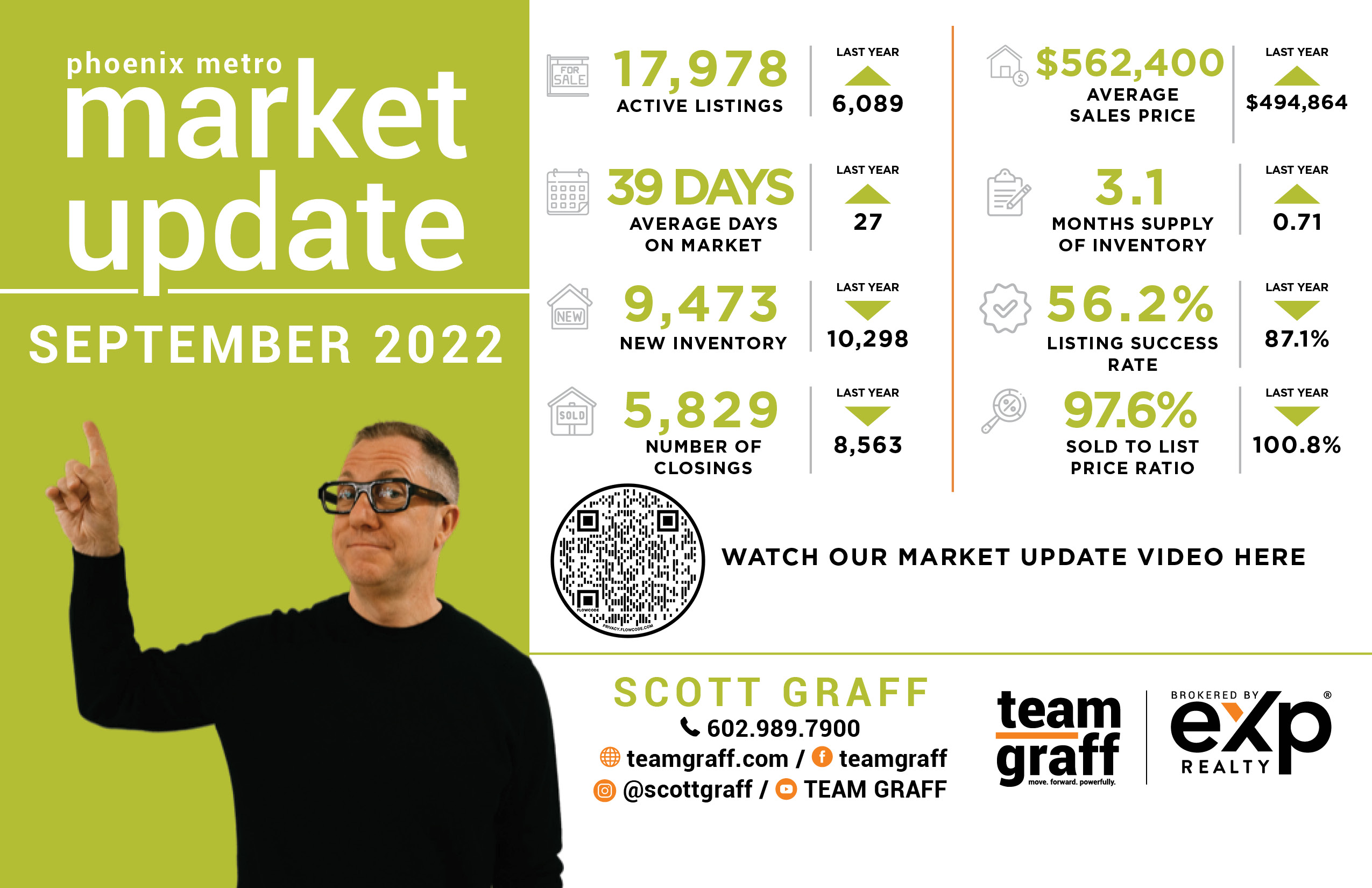 We publish hyper local content daily and would like to share 3 articles with you.
1. The Price Per Squarefoot for Homes has Quadrupled Since 1980
That's four times since the median price per foot was $41 per foot. Can you imagine? Today, the median price per foot is $169.
2. Apartment Rent Increases Declerate Analysis Shows
Now this is happening across the entire rental market. Now, what that means is that the rate of increase is decreasing for the first time in along time, and it's mainly driven by affordability. So we're starting to see that pushback in the rental market.
3. The 5 Most Afforable Valley Cities for First Time Home Buyers
Can you guess what they are? In no particular order...
Buckeye
Queen Creek
Casa Grande
Coolidge
Maricopa
So there you have it, September 2022. Phoenix Housing market update. If you'd like more information as a buyer or a seller, call me at 602-989-7900.
Of course we'd love you to follow us on Instagram, subscribe to our YouTube channel and like our Facebook page. See you next month.