Phoenix Housing Market Update - October 2022
Posted by Scott Graff on Thursday, October 13, 2022 at 9:00 AM
By Scott Graff / October 13, 2022
Comment
By: TEAM GRAFF
Hello, I'm Scott Graff with TEAM GRAFF at REAL Broker and I'm here to give you Phoenix's Housing Market Update for October 2022.
We have 5 data points we want to give you.
1. Active Listings - 19,188
We're currently sitting at just north of 19,000 homes on the market, which is about a thousand home increase month over month, and about three times as many homes is where we were sitting last year. Big picture, that means opportunities for buyers.
2. Average Days on Market - 46 Days
Currently, we're sitting at 46 days on market, which is about a 10% increase month over month. Last year we were sitting in about 27 days just to give perspective. So days on market is definitely increasing.
3. New Inventory - 9,012
We had 9,000 new homes this last month, which is actually down, that's been a little bit of a shift. So we're down from about 9,400 homes of last month.
4. Number of Closings - 5,994
The total number of closings we had just shy of 6,000 homes closed this month. So as you could see, Phoenix Metro is very active, up about a hundred homes month over month.
5. Listing Success Rate - 54.3%
Now, the listing success rate means the total percentage of homes that were on the market that actually sold our listing success rate. This last 30 days was just shy of 55%, which if you look year over year, about a year ago, it was just shy of 90%. So we're seeing less homes having the success once they hit the market.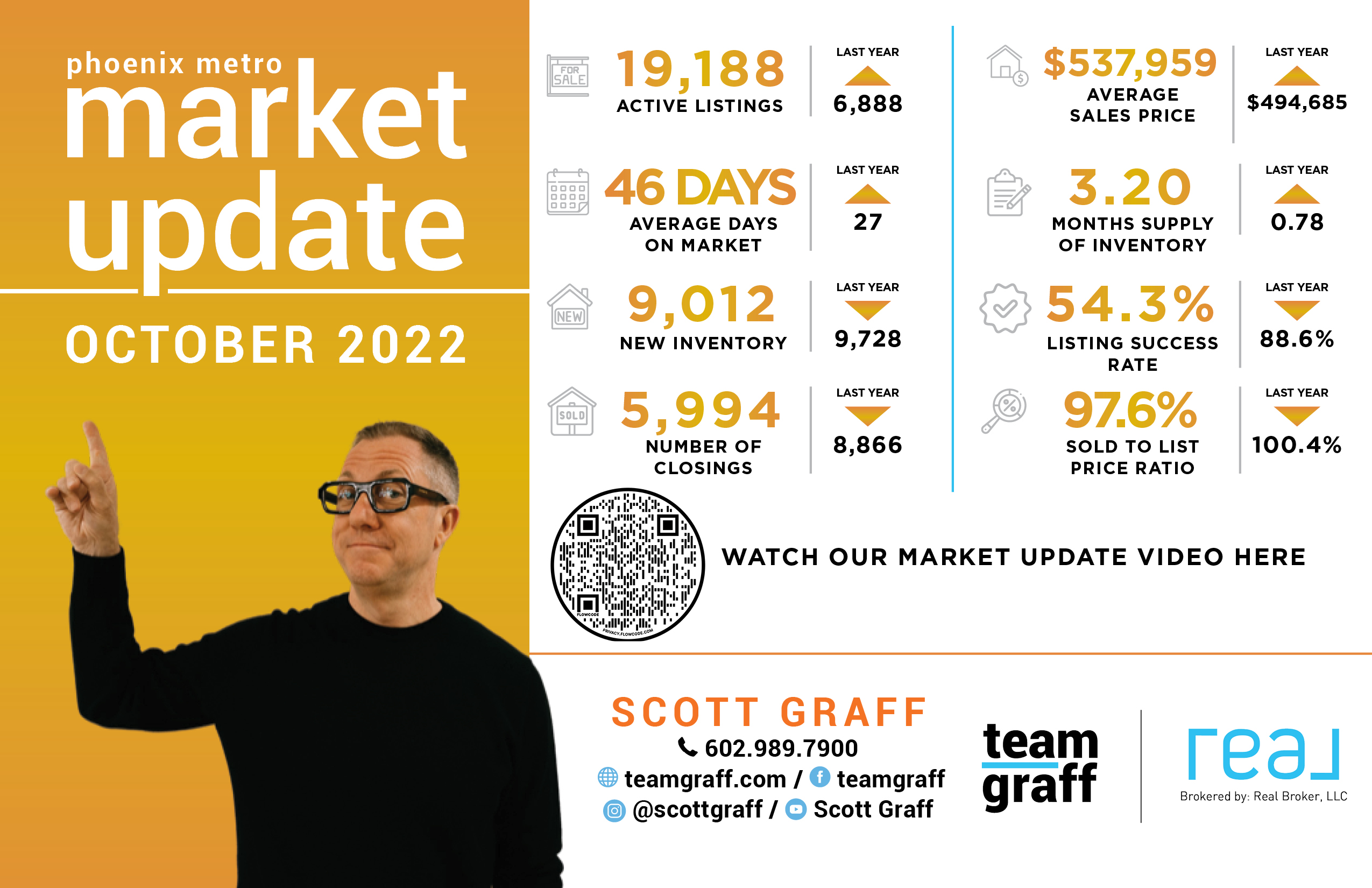 We publish hyper local content daily and would like to share 3 articles with you.
1. Tempe ranks No. 2 on Best Places to Live in U.S. list
One of my favorite cities, if not my favorite city in all of Phoenix Metro is Tempe. Tempe ranks number two on best places to live digital platform. Money Today announced the annual ranking of the best places to live, spotlighting 50 cities and towns with strong labor markets, affordable homes, racial, economic and cultural diversity. Tempe is ranked number two on the best places to live on this list. So congratulations, Tempe.
2. Phoenix No. 2 in the U.S. for cutting prices on home listings
In the entire United States, we're cutting prices on home listings. So that kind of goes back to some of our data points before, but here's the leading indicator is that most of the homes on this list witnessed the strongest appreciation during the pandemic, which clearly Phoenix was one of those. In Phoenix, we just experienced about a 43.1%. About a 43% of the homes that were on the market at a price reduction in the Phoenix Metro.
3. Real Estate is still Safest Investment in Arizona
The article starts off by saying real estate investment is fast becoming a trend in the world, and rightfully so as real estate is inarguably a safe, secure, and tangible investment for value appreciation. Now, I don't know that it's becoming a trend. It's always been a trend. Most of the long term buy and hold investors of mostly one in a kind of a combination like that.
If you are looking to buy a home, sell a home, or invest in real estate here in Phoenix Metro, call me at (602) 989-7900
We would love to connect with you on social media. Follow us on Instagram, subscribe to our YouTube channel and like + follow us on Facebook!
See next month!