Festival of Lights donation drive in full swing
Posted by Scott Graff on Wednesday, July 20, 2022 at 9:00 AM
By Scott Graff / July 20, 2022
Comment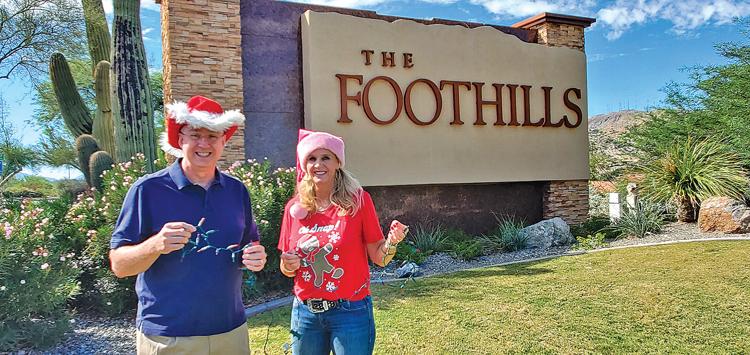 By: Ahwatukee Foothills News
With July's searing temperatures and an equally hot primary election underway, it may be hard to think about the Christmas season and the festive decorations that come with it.But that's not far from the mind of a group of residents and board members of the Foothills Community Association. A group of them are trying to get ahead on fundraising for the annual display of lights in the medians of Chandler Boulevard between 24th Street and Desert Foothills Parkway.
The annual cost of setting up and tearing down the display – along, of course, with the cost of electricity – exceeds $110,000 and even though both the Foothills and Club West homeowners associations have supported this in the past with annual contributions – usually $50,000 and $25,000 respectively – the holiday effort requires the support of individuals, groups and businesses.
"We are doing this earlier this year to make sure we have the funds prior to the HOA bidding out the lights and entering into the contracts," said Foothills resident Carrie McNeish, adding that "we had an amazing light display for over two months last year." But how long the lights can remain this season very much depends on the current fundraising efforts, she stressed.
Doherty led the Foothills HOA board in crafting an agreement with the all-volunteer Festival of Lights Committee to take over the responsibility for setting up the display. The committee remains in existence to raise funds and volunteer support for the effort. This year the Foothills HOA board is bidding out the contract for the lights, which McNeish said "has not been done for years."
"In order to know how much money they have to spend they have to collect the monies prior to entering into the contract – which is why we are asking for donations now," McNeish said. McNeish said so far the fundraising has generated $37,000.
Besides contributions from the two HOAs and the Festival of Lights Committee, several businesses have stepped forward to help. They include San Tan Ford, The Longo Firm, Albertsons/Safeway, and Jill Bittner with Tukee Homes Realty.
While fundraising will continue throughout the year – including a new "2022 Million Lights 5K Fun Run" along Chandler Boulevard on Dec. 10 – Foothills residents are focused on raising $50,000 by Aug. 31.
Businesses and individuals contributing $1,500 will get special recognition on the Foothills and Club West HOA websites, on flyers that will be sent later this year to 4,000 households in those two communities, and in the Ahwatukee Foothills News in both ads and news coverage.
There are ways to help -- people can make a donation at gofundme.com (search by "foothills festival of lights") or they can send a check to Premier, with "Foothills Holiday Lights Donation" in the memo field, attention Jatana Wylie, 3930 S. Alma School Road, Chandler AZ 85248. Information: [email protected]or 480-221-9090.